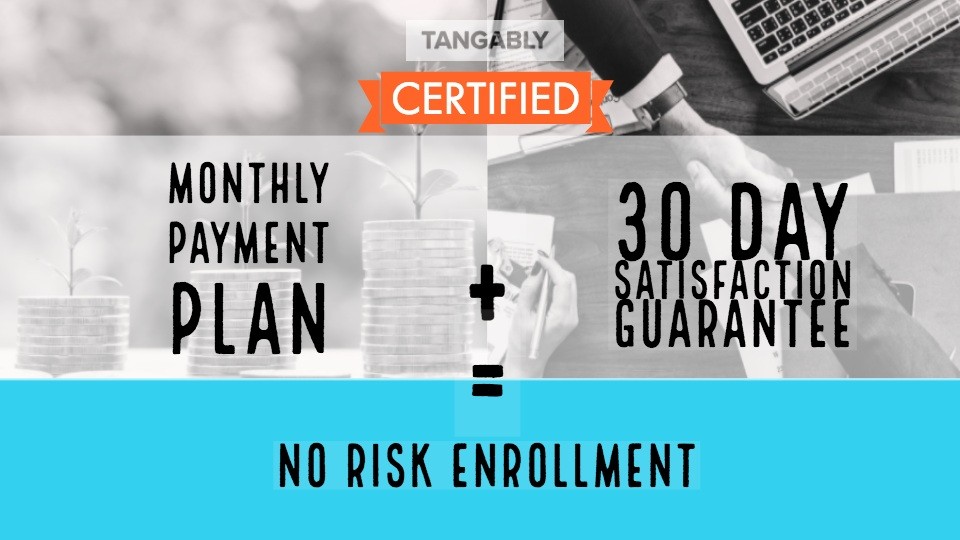 Satisfaction Guaranteed + Payment Plan = No Risk Enrollment

2 MORE WAYS we are investing in your success with Vectorworks software at Tangably.
Payment Plan
Now you can spread the cost of the Tangably Certified Vectorworks Training Programs out over 6 months with recurring monthly payments.

We understand that the upfront cost of committing to 24 weeks of training can be burdensome to bite off in one piece. Many of our individual clients are looking to make career moves with these skills. Some are design studios looking to train their whole team concurrently and move to a new level of efficiency in their office.
While there is always the option to enroll in Masterclasses individually and pay as you progress.

Today we are announcing payment plans to lower the barrier to entry to our certification programs. This way you still get access to the $1300 relative discount when enrolling in the certification program (as compared to enrolling in Masterclass components individually).
With these new plans, you get access and get started with the certification program at 1/6 the initial cost. The plans will allow individuals and whole teams to get started with the program and experience the value that it will bring to a daily Vectorworks workflow.

To take advantage of this offer, at enrollment for certification look for "Payment Plan" as one of the enrollment options.
30 Days Satisfaction Guaranteed
If you feel that you have gained no value from the certification program within the first 30 days from the start date. We will give you your money back. It's that simple.
You may be wondering, is this training is right for your team? Will it really teach them the skills you want them to have in Vectorworks?
We truly know it will. We are so confident that we are guaranteeing your satisfaction.
There is now no risk to getting started with the Tangably Certified training that will get your team to the next level with Vectorworks software.