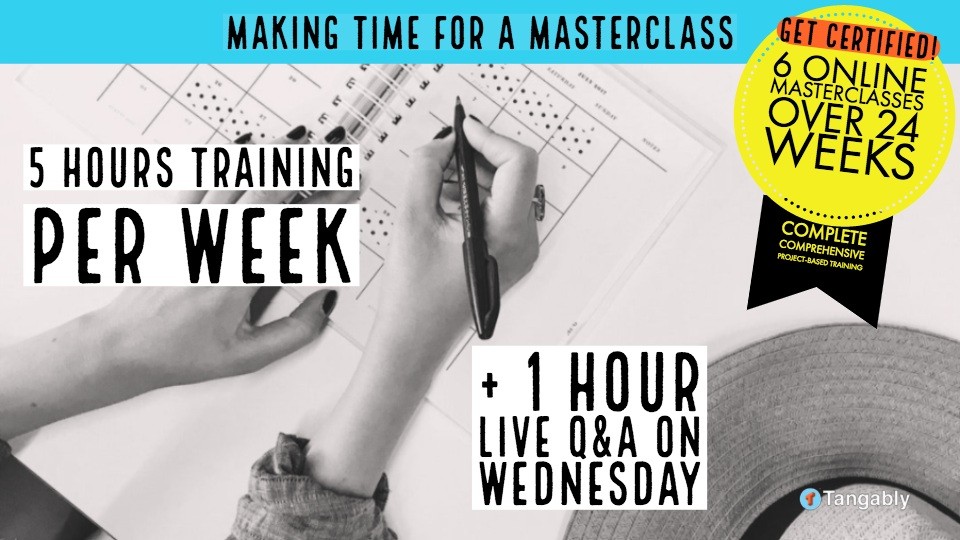 Integrating masterclasses into your schedule
Your industry can be demanding on a weekly schedule. It may be challenging to consider dedicating some of your time to software training. Tangably, Inc. has create design software training programs with you in mind. We realize it is nearly impossible to hold your client demands at bay to consider attending weeks or more of hands-on software training in-person. Our solution is to offer guided professional training in digestible bites as part of a comprehensive remote-learning program that you can integrate within the demands of your weekly schedule.
5 Hours per week - Curriculum Batches
Each week on Mondays during your masterclass enrollment period, you will receive access to a batch of Lecture segments, Quizzes, and Exercises that you may digest and practice that week at the time and location convenient to your schedule. We suggest dedicating approximately 5 hours per week to the curriculum including:
Lectures
Our project-based masterclasses are composed of video lecture segments ranging from 2 to 9 minutes in duration. Groups of these lectures are arranged in Sections. Sections will comprehensively review a subject or part of a larger workflow within the software. In addition to video lectures, masterclass sections are also accompanied by an integrated online training manual of supporting text, workflow imagery, and screenshots.
Exercises
Assigned exercises complement masterclass sections. They are structured as prompts for you to practice your comprehension of the software universe and the workflows covered within a masterclass. The exercises will start off simple, then scale in complexity as you advance through the masterclass and become more proficient with the software.
Quizzes
Periodically throughout the masterclass sections, you will encounter a quizzes. The quiz is typically 1 to 3 questions with simple multiple choice answers. The quizzes give you an opportunity to confirm that you are comprehending the concepts being discussed.
+ 1 Hour each week - LIVE Q&A Wednesdays
Every Wednesday during your Masterclass enrollment period, you have the opportunity to choose one of several scheduled times to join a Tangably instructor and other enrolled masterclass participants in a LIVE Q&A Webinar. This is an opportunity to discuss, ask questions, and share your discoveries related to the curriculum sections of the week. For more details on this program and related masterclasses please visit: https://tangably.com/p/training-certification