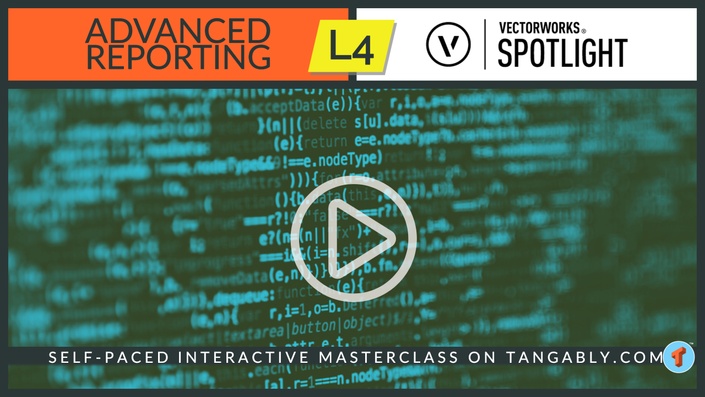 Advanced Publishing & Reporting with Vectorworks
A 4-week Masterclass on advanced skills with Vectorworks Spotlight
Get started today!
This is a four-week comprehensive, project-based, online training approach to learning professional reporting and publishing skills with Vectorworks Spotlight.
Through industry expert guided lectures, supporting exercises, online training manuals, and weekly group Q&A webinars you will develop an understanding of tools, menus, and commands, and workflows used to render and visualize a design model within Vectorworks Spotlight design software.
This masterclass excels far beyond intermediate workflows and develops a solid understanding and familiarity of using Vectorworks Spotlight Reporting and Worksheet creation capabilities in advanced workflows.
Study will also be focused on developing an advanced understanding of Publishing and Export capabilities of Vectorworks Spotlight.
Advanced Reporting & Publishing | Vectorworks Spotlight Masterclass is an immersive learning experience engineered to provide a multifaceted understanding of the advanced capabilities of Vectorworks Spotlight as a Database Reporting & Document Publishing tool.
The video lectures, text, and exercises are complementary of each other. Consuming and practicing the variety of learning material provided is supportive of a complete learning experience. It is also important to reflect upon the lessons with the instructor and fellow participants. Vocalizing and practicing what you learn from the lessons will help you to reinforce your understanding of the subject matter, test your assumptions, and expose some areas you may need to review or practice again.

We begin the masterclass by understanding and practicing control and management of the reporting functions. Every object created within Vectorworks Spotlight contains information that can be counted, calculated, and reported. Possessing an intuitive understanding of this previously hidden world of data will allow you to flex the power of your event design as an information model.

Moving beyond the ability to simply produce inventory reports, Vectorworks has the robust capability to create detailed customizable and dynamic worksheets that will be updated as you iterate your event model.

Developing a solid understanding of how to control this robust reporting engine within Vectorworks Spotlight will allow you to design, iterate, and model with access to more information about how your decisions affect equipment supply or demands on external suppliers and vendors.

Creating all these reports can be great for personal or internal knowledge, but the next challenge comes with representing this data in a legible format that you are proud to present.
Fundamentally, we publish documents with Vectorworks Spotlight to communicate our intentions.
The second half of the masterclass focuses heavily on the power of publishing tools. After building a robust understanding of getting documents out of various printers and plotters, we move our focus toward publishing for digital consumption including PDFs, 3D viewing, and optimizing for in-field devices like iPads and cell phones.
Additionally, we address the need to publish or export to a variety of file formats for communication across software platforms. Learn to export for CAD users, 3D Model coordination, 3D Printing, Virtual Reality, and other formats.
Creating an impressively detailed event model in the computer is only part of the challenge, extracting the information within that model and representing it accurately and legibly is truly where you begin to extract and leverage the value of your advanced understanding of Vectorworks Spotlight software.
Attend and participate online, at your office, from your home, favorite conference room, or on the road to your next gig from your mobile device.
Enrollment in this masterclass includes:
A self-paced online curriculum allows you to develop your skills any time anywhere

Project-based instruction relevant for the entertainment professional

Weekly live Q&A sessions with industry expert instructors


Verifiable and shareable Masterclass Completion Certificate

One full year of access, including v2019 curriculum updates at no extra cost
Tangably has worked with leading Entertainment Technology + Design professionals around the world since 2014.
Your Instructor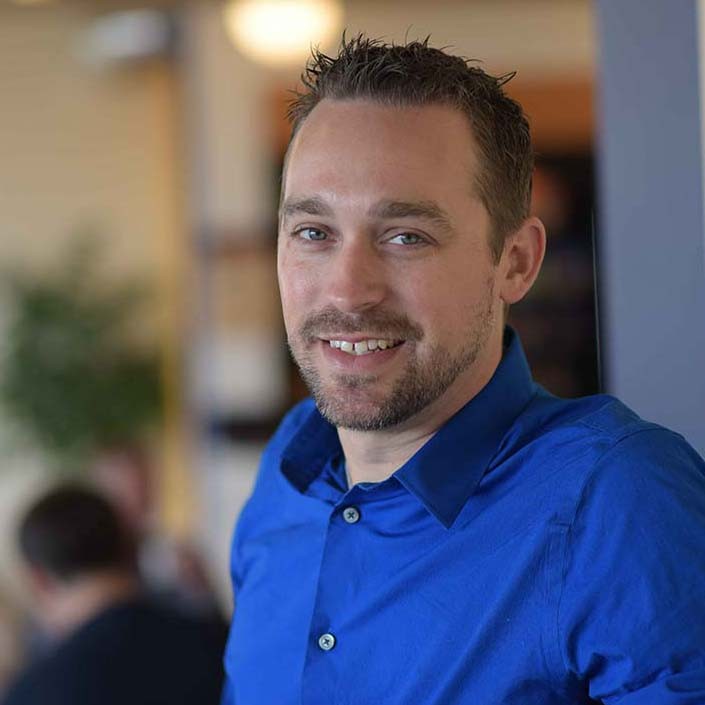 Jacob bridges two decades of industry experience and dual professional degrees in Entertainment Design and Architecture. He has been using Vectorworks as an essential 3D design, Information Modeling "BIM", CAD, and rendering tool for two decades.
Jacob has served as a training consultant to professionals ranging from major motion picture set designers and live entertainment lighting designers to leading architecture firms.
You can learn more about Jacob on his LinkedIn profile: https://www.linkedin.com/in/jacobdale/
Generate instrument & equipment inventories from the event model
Count and categorize multitudes of staging and scenic elements
Calculate areas, lengths, volumes of model elements & materials
Customize worksheets for desired calculations and/or graphic qualities
Manage a library of worksheets and custom reports within the Resource Manager
Generate and deploy custom formulas within worksheets
Organize, present, and publish reports
Output seating schedules
Create publishing, printing, and plotting standards
Optimize presentation documents for common devices
Understand a multitude of export formats and their uses
Who Should Participate
Those who work in events, AV, lighting design, scenic design, film and anyone interested in upgrading their entertainment design workflow with Vectorworks Spotlight should participate in this Masterclass.
Join us if you are just getting started, or if you're an industry veteran looking to further your skills with Vectorworks Spotlight design software.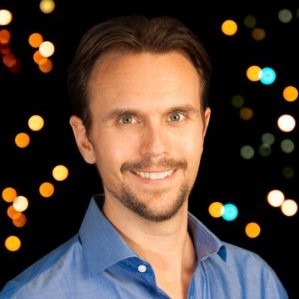 "I completed‍‍‍ Tangably Vectorworks Spotlight training with the confidence to begin implementing Vectorworks Spotlight software within my business. The instructor's passion for the software was apparent. It brought a nice dynamic to the classroom. A great deal of interesting and useful information was covered throughout the course."
- Nicolas Blasi, Creative Director, SEP Lighting
Enrollment in this Masterclass includes:
Weekly batches of project-based training exercises and on-demand video lectures
Commenting and group discussion integrated within each lecture
Weekly live-streamed Q&A with Masterclass instructor and fellow participants
Periodic skills quizzes to reinforce key concepts
Lecture-integrated supportive text
Downloadable exercise files in .VWX 2018, 2017 or 2016 format
Printable shortcut reminders & tip sheets
Personalized, portable and verifiable Masterclass Completion Certificates allow participants who complete the coursework and exams to highlight their new skills on their resumes, websites and LinkedIn profiles.
Regular team progress reports for enterprise clients allow managers to track individual progress throughout the training process.
Industry Expertise
This course is a 4-week instructor-guided exploration and practice of the tools and workflows used in Vectorworks Spotlight Design Software by industry professionals. It is taught by an Industry Expert Instructor with two decades of experience utilizing Vectorworks Design Software on real-world projects.
Project-Based Instruction
This course is designed as project-based training. Each course module will focus on using tools and workflows within Vectorworks Spotlight software to build on a digital model of a project grounded on real-world constraints and simulated client demands and requests.
Comprehensive Training
Whether you are new to the industry looking to get a handle on the state of the art software, or an industry veteran that has decided to take your design workflow to the digital world, this course will propel you forward in your practice.
State-of-the-Art Professional Skills
Vectorworks Spotlight Design Software is used by a majority of professional designers in Live Entertainment, Lighting, Audio/Visual, Major Motion Pictures, Television, Theatre, Corporate Event, and Exhibit Design.
Verifiable Credentials
After completing all Masterclass modules and quizzes, you will receive a personalized and verifiable certificate of completion. Display your certificate on your website and LinkedIn profile to advertise your cutting edge credentials.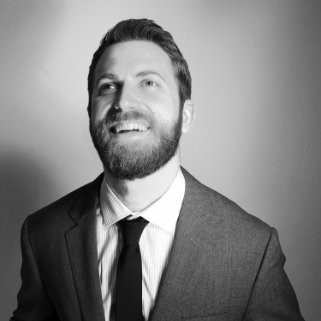 "Lik‍‍‍e an extension of my brain on paper. Seriously, Jacob just sees it… he knows what to do. It's awesome. Thanks!."
- Ryan Nelson, Director of Small Cell Implementation & Design, Larson Camouflage
PREREQUISITES
Tangably Advanced Reporting & Publishing | Vectorworks Spotlight Masterclass builds on the Tangably Foundational, Intermediate, and Advanced 3D Modeling & Resource Mgmt Masterclasses. If you are unfamiliar with concepts such as advanced drawing, advanced modeling, and advanced file organization, it's a good idea to complete Foundational, Intermediate, and Advanced 3D Modeling & Resource Mgmt Masterclasses before embarking on Advanced Reporting & Publishing.
Additionally, before considering this masterclass you should comprehend:
drafting concepts including:

plan and elevation projections
scale vs. actual size
drawing units

basic mouse and keyboard operations
operation of a Mac or Windows Operating System
Participants must provide or have access to their own computer or workstation with the most recent version of Vectorworks Spotlight software and installed latest Service Pack release (currently Vectorworks 2018, Service Pack 2).*
A two button mouse with a scroll wheel, trackball with left and right buttons, or a multi-touch input surface is recommended.
Download a FREE 30-Day Trial of Vectorworks Spotlight 2018 at
http://www.vectorworks.net/trial
*PLEASE NOTE: Tangably is not affiliated with Nemetschek Vectorworks and does not sell or distribute Vectorworks Spotlight software. Therefore, if you are enrolling in a Tangably Masterclass or Tangably Training Program, it is your responsibility (or your employers) to secure or plan to acquire a fully functioning copy of current Vectorworks Spotlight software (valid throughout the duration of instruction) before enrolling.
Frequently Asked Questions
I have a busy work schedule. Will I need to take time off from my job in order to participate in this Masterclass?
Not at all. All of the lessons are pre-recorded and available to watch whenever its convenient for you. The live Q&A sessions happen weekly and include morning, midday and evening sessions, so you can join the session that best fits your schedule.

What if I have a question on a specific lesson; do I need to wait until the weekly Q&A to get an answer?
No need to wait. Below each lesson video you'll find a place to submit any questions you may have. In many cases you'll see an answer posted (either in text or video format) within a couple of hours.
What happens if I don't complete the Masterclass by the official end date?

We understand that folks in our industry can get busy. You'll have full access to the Masterclass, including the answers to any questions posted by you and your classmates for a full year from the start date.
Will I receive a certificate of completion after finishing the Masterclass?
Yes! Upon completion of your Masterclass you will receive a unique and verifiable certificate of completion from Tangably. Employers and clients can use this certificate to verify your level of expertise.
Do I need to purchase design software in order to enroll?

In most cases no. Tangably Masterclasses are fully compatible with the free trial versions of ay Vectorworks design software. Keep in mind that most trials expire after 30 days, so you'll want to make sure you complete your Masterclass by the time the trial period expires.
What is your refund policy?

If you're unsatisfied with your Masterclass for any reason, simply notify us within 30 days of your class start date and we will refund 100% of your purchase price.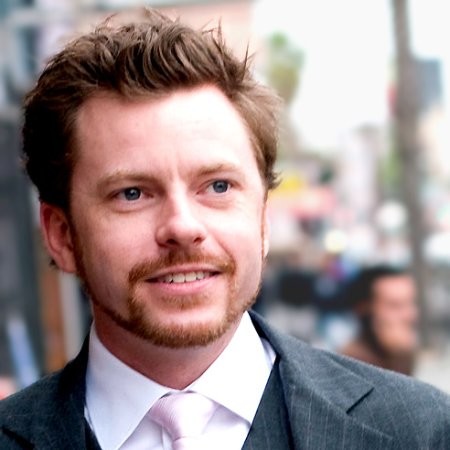 "We couldn't imagine being happier with our engagement with Tangably— Our Designer came back full of energy and was very complimentary of the trainer and the curriculum. Having Tangably in our hip pocket removes significant obstacles for us going forward with regards to considering potential candidates and overall recruitment. Thank you so much for your commitment and passion for the Vectorworks program and community (Nemetschek owes you a debt of gratitude — or an award)."
- Brent White, Design Director of Environments, Tesser Big Picture Branding
If you are enrolling in a Masterclass or Training Program, it is your responsibility to secure or plan to acquire a fully functioning copy of current Vectorworks Spotlight software before enrolling.
Tangably does not sell or distribute Vectorworks Spotlight software.

We recommend our friends at Novedge for great deals on design software.
All brand names and logos are the property of their respective owners, are used for identification purposes only, and do not imply product endorsement or affiliation.