Each Mastermind Workshop is an intensive day of hands-on training with Vectorworks Spotlight, plus all the learning support that Tangably offers.

Vectorworks Spotlight Mastermind Workshops are offered in the global urban hubs of entertainment technology and design. These regional training opportunities allow beginner to expert users of Vectorworks Spotlight the access to level-up their skills with an expert instructor and fellow professionals in their industry.
Frequently Asked Questions
When does the workshop start and finish?
Each workshop day starts at 11 am and ends at 4 pm. This allows participants time in the morning and afternoon to care for their daily duties and correspond with their counterparts. All of our clients lead important and very busy lives full of demands from their clients, family, and employers. Our expectation is that you are fully engaged and without distraction for the workshop duration. That is why we choose an intensive learning block format. We request that you allow us your undivided attention for this opportunity. It is our mission to make you better prepared to serve those who make demands on your time.
Are computer workstations and software provided? We prefer that participants bring a laptop or reasonably portable workstation with them with the latest version of Vectorworks Spotlight installed. This ensures that individuals are familiar with the actual limitations (or lack there of) related to their hardware. This also allows participants to setup preferences and workspaces native to their daily production environment.
Is the workshop catered? A complementary spread of brunch options, snacks, and beverages [esp. coffee] will be available on the morning of each workshop day. Special dietary needs? Simply let us know after you register and we will plan accordingly.
What if our team is unhappy with the workshop? Our team will cheerfully refund your registration.
Fly like a G6
While other training providers are scaling back their hands-on training and opting for 100 + attendance numbers...
Tangably prides itself in remaining accessible to each enrolled participant. Thats why we limit our workshop attendance to 8. Yes, 8.
We have all been on commercial flights, the boarding process alone can take more than an hour. Wouldn't everyone choose to fly private if they had the option? The reason? It's all about service and speed.
In our small boarding group we fly fast and nimble. Are you onboard?
Prepare for takeoff! Seats sell quickly. Never more than 8 available. So reserve yours today at the links below.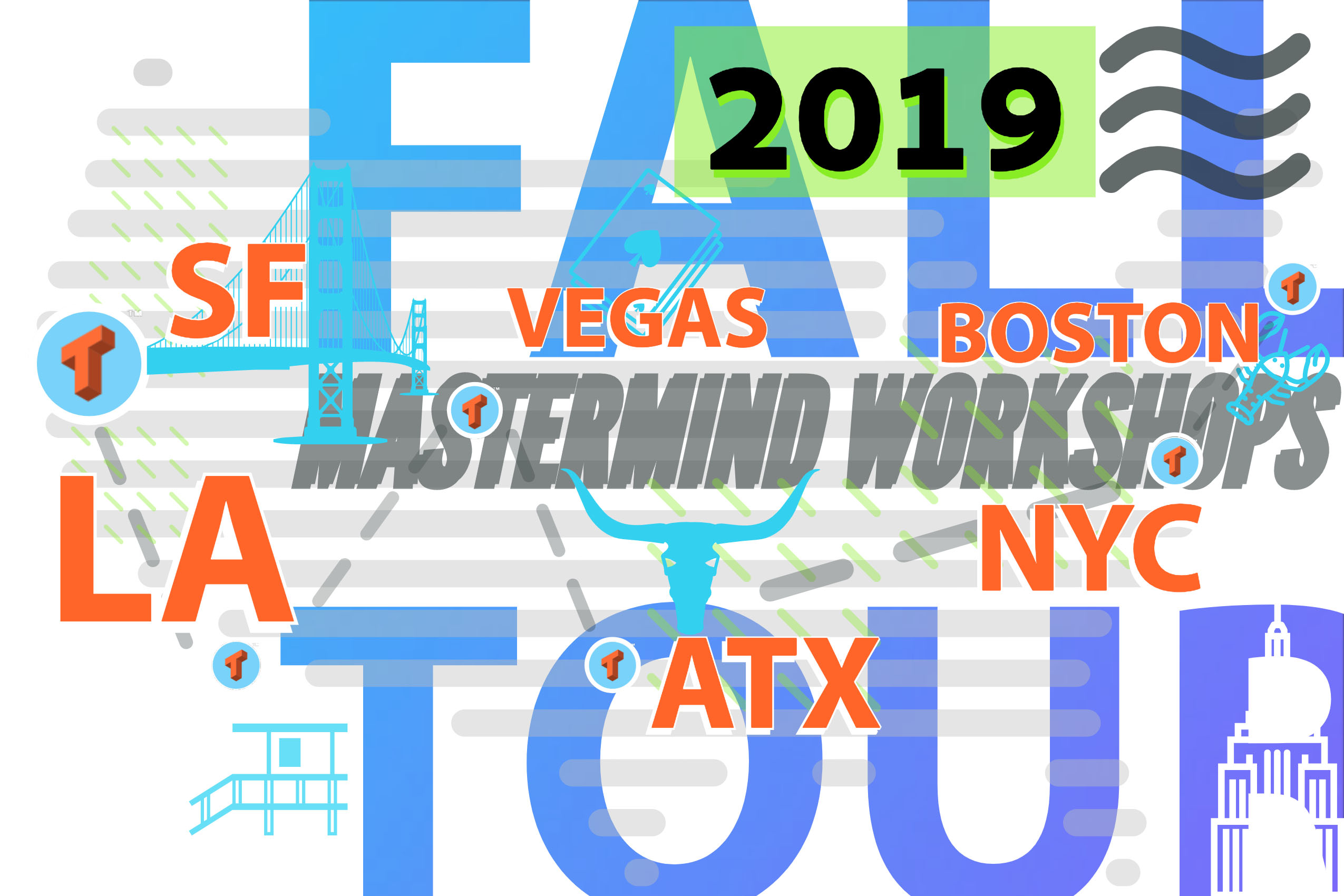 Now booking Custom On-Site Corporate and Union Training for Winter & Spring 2019/2020.
2020 WINTER TOUR
Vectorworks Spotlight Mastermind Workshops
LA
ATX

NYC

BOS
VEGAS
DATES AVAILABLE SOON,
SIGN UP BELOW, BE THE FIRST TO KNOW!
Prefer private on-site training or a custom internal Learning Management System (LMS) that evolves with your team?
Learn more about Corporate Training offered by Tangably.
All brand names and logos are the property of their respective owners, are used for identification purposes only, and do not imply product endorsement or affiliation.