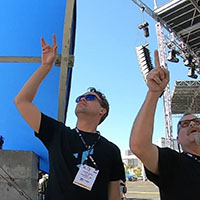 Tangably (tăn′jə-blē) is the source for tangible - ability in the entertainment industry.
Tangably was established in 2015 as a resource for entertainment professionals who desire to keep skilled on the cutting edge of design and planning software, site and workplace safety, compliance, continuing education and related training.
Our clients work in all forms of motion picture and television production, concerts and live events, trade shows and exhibitions, corporate events, live theater, and television broadcasting as well as the equipment and construction shops that support these areas of the entertainment industry. We empower virtually all the behind-the-scenes professionals that create the impossible every day.