SHARPEN YOUR TEAM
Tangably delivers online and on-site training to world-class teams and freelancers on Vectorworks Spotlight.
​We empower the behind-the-scenes professionals that create the impossible every day.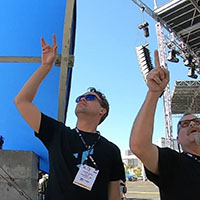 From beginner basics, to advanced techniques, to expert level workflows. Learn how to dominate in your industry, with interactive online video tutorials and live mastermind sessions taught by industry experts.
Tangably (tăn′jə-blē) is a premier resource for cutting- edge entertainment and event professionals. Our clients work in all forms of audio visual, motion picture and television production, concerts and live events, trade shows and exhibitions, corporate events, live theater, and broadcasting.
Unlock maximum potential.
Sharpen your team with Tangably.
Prefer private on-site training or a custom internal Learning Management System (LMS) that evolves with your team?
Learn more about Corporate Training offered by Tangably.
All brand names and logos are the property of their respective owners, are used for identification purposes only, and do not imply product endorsement or affiliation.